To celebrate this milestone, I would like to:
Launch a brand new weekend link-up! It will be call, "A Moment In Time", Weekend Photo Challenge. And here is the button you will be using:
The linking up for this challenge will open on Friday and will close on Sunday.
GUIDELINES:
*
You don't have to be a "FOLLOWER" of this blog, but I would really appreciate it if you are!
* The picture you will use MUST be yours! Taken by you and not somebody else.
* The picture should preferably be recent, NO digging into your archives! I want you to get out there, take a photo or a bunch of them, pick your FAVOURITE and post it here!
* PLEASE ONLY ONE photo per post!
* Please link directly to your post, not the home page of your blog.
* Please include the "A Moment In Time" button (above) in your post to link back to my site.
* Please visit at least five of your neighbours and leave a sincere and kind comment for them as well. We all like those, don't we?
I will announce my favourite and therefore the winner, by Thursday morning before the new week's link-up starts.
(Whenever possible, I will try and have an actual prize for the winner. NOTHING fancy, just a little something! If you are interested in providing a prize, please let me know!
For this first week challenge, this will be your prize:
Charming Antique Silver Camera Bracelet
(I Have one and love it!)
Photo by,
Life In Ink @ Etsy
PLEASE KEEP THIS IN MIND!
I will judge the photos according to creativity, focus, composition and editing! I want you to really challenge yourself, it is NOT about just snapping whatever and trowing it here! It is about getting off your comfort zone, trying something new, learning a new technique, do the best you can do and then share it with all of us here! We promise to be kind and encourage you to continue to do your best! Above all I want you to have fun!
Last BUT NOT LEAST, I would love to visit all your entries, depending on how many people decide to participate, I know this could take me a while, so in order to make things easier not just for me but for EVERYONE else that comes to your blog for a visit and wants to leave you a comment, I am going to BEG that you please take a minute or two and visit this very helpful post! I couldn't have said it better myself so I will let Branson,
say it for me!
Bloggy Basics: Comment Commentary
THANK YOU SO MUCH!
-------------------------------------------
THIS WEEK'S THEME . . .
I WOULD LIKE TO START THIS NEW CHALLENGE WITH THE SO OBVIOUS THIS TIME OF THE YEAR, FALL OR AUTUMN. IF YOU DON'T HAVE

AUTUMN

WHERE YOU ARE, OR YOUR PART OF THE COUNTRY ISN'T QUITE THERE YET, I WOULD LIKE TO THEN ENCOURAGE TO USE THE COLOURS

YELLOW

,

RED

AND

ORANGE

FOR INSPIRATION, FAIR ENOUGH? GREAT!
GO AHEAD, GET OUT THERE, HAVE FUN, COME BACK AND SHARE WITH ALL OF US!
---------------------------------
I will start with my favourite photo of this week!
Our Beautiful Savanah + Morning Sunrise + Foggy morning = Perfect picture?
I Love it!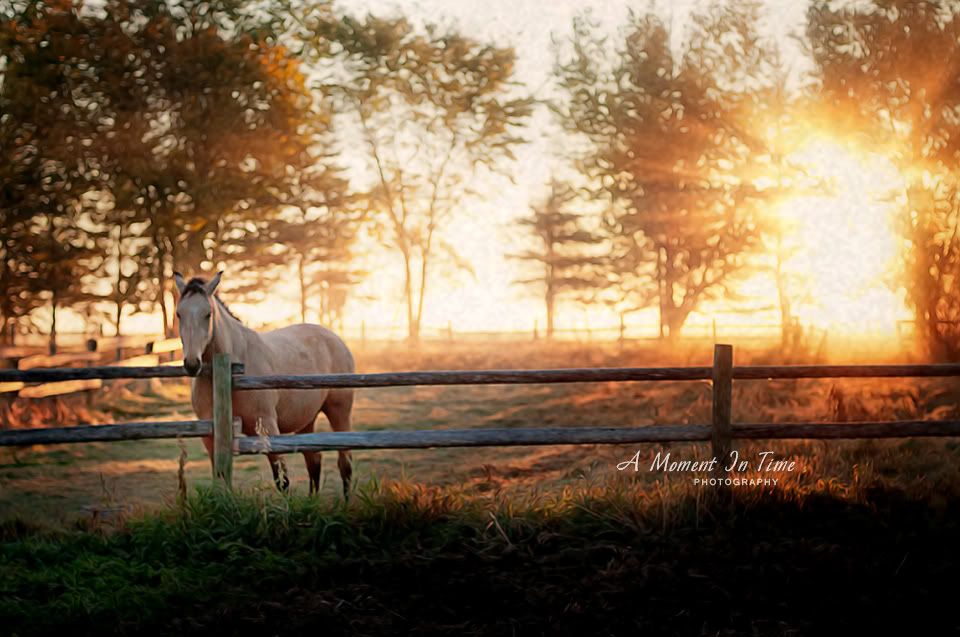 I am also linking up to:
I am linking to
Farmchick's Farm Photo Friday
Now is your turn! Thank you for participating!